Written by Ron Morales on September 14th, 2014
Rochester, NY
Another episode of Super Sunday Soul Jam has been added to the collection on RocPic.Com - Week 2, Season 2 of open mic with Mitty and the Followers at Flour City Station, is now online for your information, listening, and viewing pleasure. Season 2 picks up where season 1 left off, making for what I say is the best party in Rochester, NY on a Sunday afternoon (4pm - 8pm) .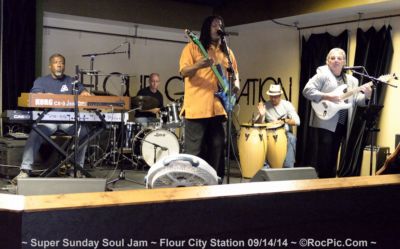 Photo: "On Broadway" Opening Week 2 Season 2 of the SSSJ
I am touting this new publication as my prettiest yet utilization of Responsive Web Design (RWD) making these pages Smartphone, Tablet, and Desktop friendly. All images and videos on this new story will expand and contract as you adjust the size of your web browser. If you are on a smartphone or tablet, everything will line up in a single column, for that just right fit. [Read More...]

The sample video below "On Broadway" is the opening song for Week 2, Season 2, of the Super Sunday Soul Jam. Follow this link Super Sunday Soul Jam September 14th, 2014 for all 9 videos and 200 photos.
---
---
---
---
---